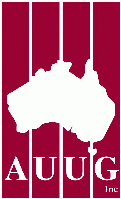 Enterprise Security, Enterprise Linux
AUUG2K Conference & Tutorials
Enterprise Security, Enterprise Linux
Australian National University, Canberra
25-30 June 2000
The Conference Was A Success
AUUG2K has come and gone, and was a success.

Senator Kate Lundy, Shadow Minister for Sport, Youth Affairs and Assisting on Information Technology, presented the opening address titled, Open Source - Open Mind, which is worth studying for her insights into the contemporary issue of Internet censorship.

The remainder of this page is of historical interest only...
Registration Pack
Sponsors
The Organising Committee of AUUG2K gratefully acknowledges the valuable and generous contribution given towards the event by the following organisations:

Diamond Sponsors


Platinum Sponsors


Silver Sponsors


Pearl Sponsor


Official Publication

Systems Magazine
Other Information
AUUG and the AUUG2K Program Chair provide regular updates on the conference. Come here to see the latest news.
The original Call for Papers can be found at http://www.auug.org.au/winter/auug2k/cfp.html.
Information on Sponsorship Opportunities can be found at http://www.auug.org.au/winter/auug2k/sponsor.html.
AUUG Home | Site Map | Email comment
---
webmaster@auug.org.au / $Id: index.html,v 1.2 2003/02/25 03:40:03 benjsc Exp $